Dog Gone Crazy Decor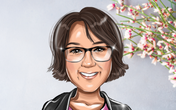 Hi everyone! Dog Gone Crazy Decor was created because I wanted to share my hobby and creations with the world! There is nothing I enjoy more than creating something that brings joy and laughter to someone else.

I am a proud rescue dog owner. We adopted Harley 6 years ago for our local animal shelter. She is an absolute blessing in our lives. She is my sidekick and never leaves my side for a minute. My husband calls her "velcro" because she is attached to me always.
Harley is the reason I have such a large number of rescue dog items. I love to see people wearing items that bring awareness to our rescue animals everywhere and to remind people that they can find their best friend at their local pet shelter.
Love to laugh? I am a jokester! You will also find items for that funny person you know. Need a unique and different item for that upcoming holiday to wear? I got you covered!
Thank you for visiting my small business! If you have any questions just send me a message.